A fair in a Turkish way – the contents of its originality
It would seem that each country has everything in its own way. Really, Turkish people like different fabrics, silver adornments, copper ware, carpets and colored ceramics. And it is difficult to remember the names of the masters right from the start. Nevertheless, eyes of creative people of any country are shining with ideas, and all the smiles serve as a universal language even if you don't know the local one. Besides, it's always worth while listening to the intuition because it will never let anyone down: if some master draws your attention then it appears this person has a rich inner life. The stories of love for art are similar to those of the Ukrainian craftsmen. In a word, we propose you the most interesting fragments of conversations with both Turkish craftsmen and craftsmen who came to Büyükçekmece from other countries.
 Turkish traditional leather shoes (yemeni)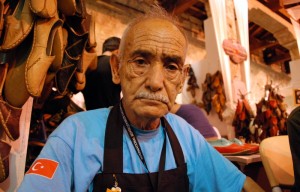 Mehmet Sagirekmekci, a 77 year old craftsman of leather footwear was the oldest among his colleagues. During the festival he was sitting under a hanging bunch of footwear continuing to make new pairs right before everyone. It is not a wonder, because this craft is at this person's heart: his grandfather and his father both used to shoe people at their times.
According to the craftsman, to master the entire process of making the footwear called yemeni in Turkey, one needs about 10 years of learning and practice. Nowadays, boys lack patience and they quit after several years of study. That is why the number of masters skilled in this craft is not large. Most of them live in the Gaziantep province, located at the south-east of Turkey. One can buy yemeni at local markets of this region. This footwear has medicinal effect according to the master; it also absorbs moisture and smell because it is made from different types of horned cattle leather. Open-toe sandals cost about 60-70 TRY (up to 300 UAH) at the fair but it was possible and even necessary to bargain.
The master is experienced not only in his craft; he also knows a lot of folk songs which he sang together with other exhibition participants after work.
Traditional pearl inlaid (Turkey)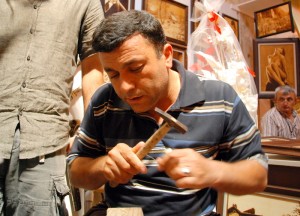 Another craftsman from Gaziantep, Muzaffer Demir, makes mother-of-pearl inlays of wooden handiworks. This art was already known at the times of the Ottoman Empire. According to Muzaffer, furniture and personal belongings of Turkish rulers were decorated by such shells. Similar things were presented to heads of other countries by the Sultan.
This craft is also a family occupation for Muzaffer: his grandfather, father and his brother and son at present are occupied in it. As for the Muzaffer uncle who is the Major of the Turkish town Denizli, he performs his official responsibilities assigned to his position during the working hours and occupies himself in creative work with mother-of-pearl and wood during his leisure time. Mother-of-pearl shells and shells of other shellfish serve as material for this craftsman's creative work. He buys it from suppliers coming from Indian Ocean, Red Sea and the seaside close to the Turkey. Such works belong to luxury class things, and they cost correspondingly. A small chest with a simple mother-or-pearl ornament costs about 20-30 TRY (80-130 UAH).
Miniature musical instruments (Turkey)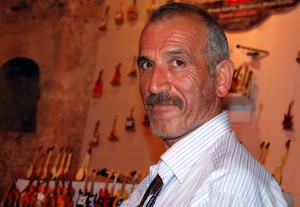 Cevat Arslan from Ankara started to create miniature wooden sculptures 30 years ago; later he tried to make several traditional musical instruments using the same principles. He has managed to do this and at present he is practically the only craftsman who makes miniatures of 25 kinds of musical instruments. But Cevat does not only create miniature copies of the instruments. He says he is able to play five of them.
Traditional Rag Dolls from Soganli village (Central Anatolia, Turkey)

Way back, Havva Ablak's grandmother used to make such dolls for her grandchildren. Their style and color have not been changed since that time. These dolls are traditional for the tourist village Soganli situated in the Kayseri province in the central Anatolia. Over 60% of women in the village are occupied in this craft because tourists like to buy these colorful toys as local souvenirs. According to Havva, the exhibition presents dolls made by her grandmother, mother and aunt. So far, the girl herself is not occupied in the craft because she studies at a University. Such dolls cost about 10 TRY at the fair (over 40 UAH).
Traditional hand printing (Turkey)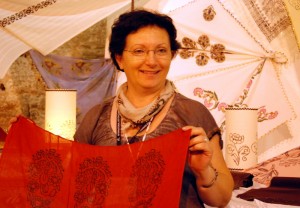 Passing by handiworks of Emel Ardahanli I recalled having seen similar ones at an exhibition in the Ivan Honchar Museum in Kiev: there was an ancient skirt from Polissya region of Ukraine made of print fabric. However, it appeared that print was widespread not only in Ukraine. According to Emel, this craft has been known in Turkey for more than 600 years and it originates from Tokat province which is located at the Black Sea region of the country.
It was not accidentally that the lady came to know about it. Her husband comes from Tokat, so Emel wanted to master this craft traditional to the motherland of her spouse. In 1997 she taught herself to make prints and now she is occupied in this craft in Izmir. She owns a workshop and a shop where the items are sold. The lady says that things made of print fabrics enjoy wide popularity. The master creates wooden print forms together with another master; they create both traditional and modern ornaments on wood. The masters use natural dyes and make it from ashes of burnt wood. According to Emel, printed ornaments do not disappear during washing but she recommends to wash printed things manually and to iron them before washing for the dye to hold firmer.
Traditional weaving (Turkey)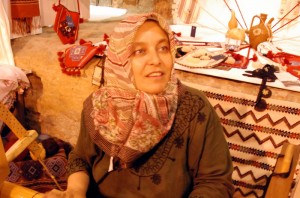 39-year old Fatma Caylali from Tekirdağ province located in the north-west Turkey is a weaver by ancestry. Two her grandmothers and her mother were also occupied in this craft. Weaving for this lady is a life style, a way to earn and to spend free time. Fatma weaves every day and teaches others this craft. Ornaments of her works are somehow similar to Bulgarian and even Ukrainian ones. According to Fatma, her great grandmother with her great grandfather moved to Bulgaria from Tekirdağ at the end of the 19th century. They brought a loom with them and certainly introduced the motives of their native land into the weaving craft. The master states that she still decorates the handiworks with the items of those times not changing anything in the motives.
Lamps made from pumpkin (Turkey)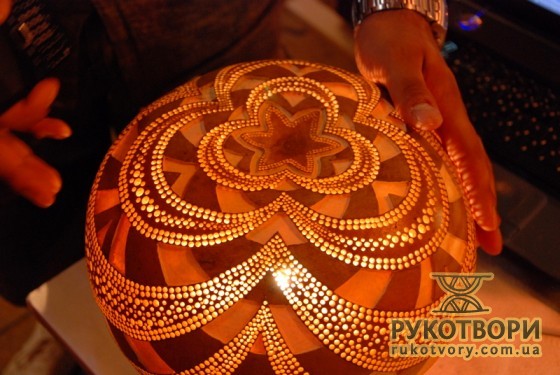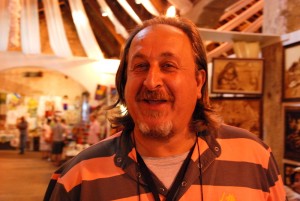 Together with the traditional arts the exhibition represented rather new ones. Manufacturing of lamps made of different pumpkin kinds and decorated with carving and colored plastic started in Turkey about 30 years ago and everybody likes them at present. Coskun Batir from Izmir has been occupied in this craft since 6 years ago. It all began as a passion and after the master's retirement this occupation became the main one in his life. 12-18 hours takes to make one pumpkin lamp. However, it is also necessary to take into account the time spent at the material preparation: half a year for growing pumpkins; their scrubbing out and drying. The items' prices are formed correspondingly: depending on the size and complicity of work pumpkin lamps cost 100-700 TRY (400-3000 UAH).
Traditional Corn Cob Dolls (Turkey)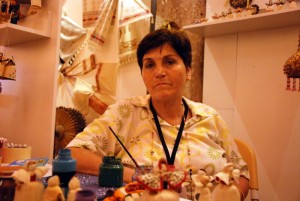 In the craft, corn leaves are used. Misirdam Bebek from Amasya province of the Black Sea region has been making dolls from them for more than 20 years. The doll stands firm due to the wire skeleton. The master paints each completed doll and decorates it with weaving or other accessories. She says she invented this technique herself in 1991 simply experimenting with corn leaves which remained from ripe ears. Since then, she has passed this craft to a lot of masters who continue to work now in different regions of the country. Such things from natural materials are in demand. According to Misirdam, she has made more than half a thousand corn magnets during the last two month: for sale both in Turkey and abroad. The lady grows corn herself and in addition buys ready leaves from other farmers.
Foreign guests
Craftsmen from Serbia, Macedonia, Kosovo, Hungary, and Northern Cyprus came to the festival upon invitation…
Filigree  jewellery (Kosovo)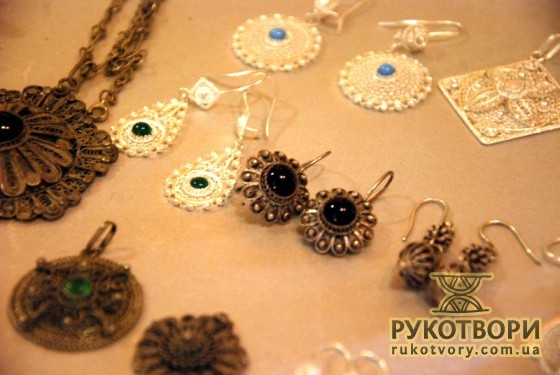 45-year old Gezim Berisha from Cosovo was at the fair with his teacher and tutor Ismail Lika. During their life they have been creating elegant filigree  jewellery from silver, gold and precious stones. Filigree from silver and gold thread woven as cobweb is one of the most ancient kinds of artistic metal processing known among jewelers of the world and it is associated with Kosovo and Metoxia (a historic and geographic region in the Balkan Mountains in the west of Kosovo). Ear-rings, pendants, bracelets, rings – all of the miniature components of the items are handmade. For this craft one needs quiet and concentration. It's these waves of even temper and conciliation that emanated from Gezim and Ismail during their work at the fair. The cost of the decoration is 10-20 euro and higher, depending on the complexity of work.
Candle making and woodcarving (Macedonia)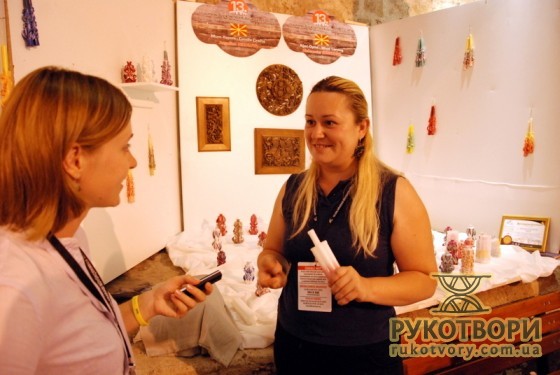 Macedonia's crafts were represented by candles and woodcarving. Aleksandar Shishkoski conducted a demonstration master-class in woodcarving, and Angelina Nikolova willingly spoke about her passion – candles.
However, according to Angelina this craft is not traditional for Macedonia and it belongs to Germans. But at present this technology is widespread in many countries of the world. The specifics of this lies in the fact that wax is colored by different dyes, then the candle is manually given a flower shape and covered with special coating which serves as a kind of dust protection: such candles can be wiped with wet cloth in contrast to ordinary candles.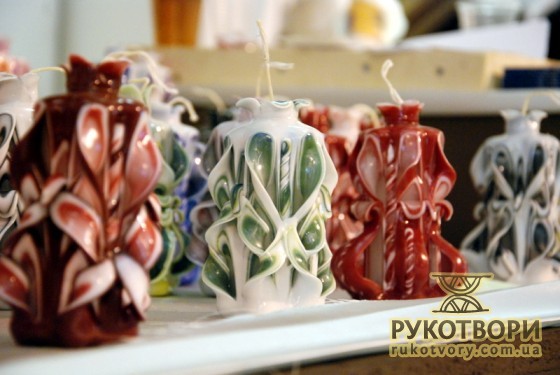 According to Angelina, the process of mastering this art came hard for her, because existing masters did not share their secrets willingly; and the study itself cost much. Angelina learned how to make such candles in Spain, having paid 8000 euro for 14 hours of practice within 4 months. Nevertheless, the money invested in the education was repaid and now they bring the master good return interest. According to her, she visits festivals and fairs in different countries regularly and finds a lot of admirers everywhere.
The master shares her impressions with us: «Last summer in only Macedonian Ohrid I sold 5 thousand candles; now, from those 400 candles I have brought with me to Turkey, only 140 are left. I am surprised because the Turkish colors are white and red, but Turkish people kept buying violet and pink candles and at present I don't have any candles of these colors left».
Angelina asks different prices for candles in different countries depending on the expenses of the trip and boarding. In Turkey the candles were the cheapest because the festival paid for the trip, board and lodging. So, the master asked 3 euro for a small candle and 10 euro for a large one.
Serbian embroidery and ceramics
Ladies from Serbia were neighbors of the Ukrainian masters at the exhibition; they brought dresses and shirts decorated mostly with embroidery in the "white on white" style and ancient authentic things not intended for sale. It is interesting that ceramic shapes repeated the shapes of the traditional Serbian footwear which we saw in the local Museum of world costumes.
Ukrainian corner at the exhibition in Turkey
Ukraine was represented by four well-known masters. Oksana Kohut from Lviv region brought Yavoriv toy; Larysa Pilyuhina from Poltava region – embroidery and weaved tapestries of her daughter Olga, Natalka Katrychenko astonished embroidered motankas, and Oleksandra Prenko from Kirovograd – her woven dolls. All the impressions of our masters are in the previous articles.
Kateryna Kachur, Bohdan Hdal, «Rukotvory»
Translated by Olena Guda