Vira Man'ko: I dream about a "digitized" pysanka collection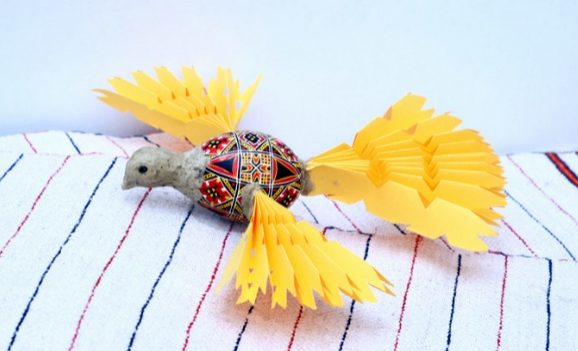 Note:
1. svarha, a kind of swastica,  is a sacred Ukrainian symbol and a sign of spiritual planetary pole.
2. trynih (tryrih, tryvirt) is painted or drawn as three rounded hooks having a common center (a circle or a triangle). It used to symbolize fire (or, by other sources – the unity of fire, air and earth) during the ancient times and had an important mystic and mythological significance being the symbol of the endless life and the movement of the Sun. It was also a symbol of fertility.
3. bezkinechnyk ("having no end")  is a wavy line symbolizing the endless life.
Vira Man'ko painted more than a thousand pysankas (pysanky – pl in Ukr) with ornaments from different regions when preparing for publication of a book titled "The Ukrainian pysanka". Thousands of adults and children are being taught the art of ornamenting pysankas by this book. Ms Vira Man'ko made her first pysanka back in 1986: her friend presented her a pysachok and taught her how to put wax inside it and how to hold the pysachok over a candle. By the following year Vira herself taught willing people to do this. When she started to work in the "Svichado" publishing house Vira was surprised by the fact that a lot of books devoted to pysankas had been published by that time abroad – in Canada and the US, but there were none of the Ukrainian edition yet. She proposed to the publishing house director, Bohdan Troyanovsky, to make a similar book. He agreed but asked "Well, but is there a manuscript for it?" So Ms Vira Man'ko began to work at it. Several years later, in 2001, her first book was published.
Eventually it was republished and translated into several languages. I am having a talk with Vira Man'ko in a famous "Boykivshina" museum in Sambor, where an exhibition of her pysankas is opened on the occasion of the Easter. In a separate bookshelf there is a set of 650 new miniature masterpieces brought back to life for the first time in accordance with ancient patterns.
«The ornaments have reached out times practically unchanged»
— Nowadays it seems that the understanding of a pysanka as the best present for the Easter is vanishing. It is more about selling, buying and collecting…
— I think people keep presenting each other hand-made pysankas. I do this myself. During the Soviet times the habit of spiritual moves in people was broken to such a degree that this understanding is coming back rather slowly. Nevertheless, I buy pysankas, too, though in my collection I have more than a thousand and a half of my own making. It's just that I want to support people who ornament pysankas in villages.
— Different signs repeat themselves on pysanky: waves, curls, stars or deer. What do they mean? And to speak in general – what are pysanky made for?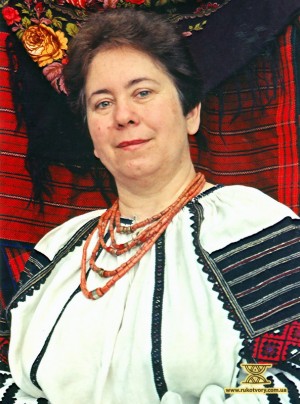 — They used to serve as kinds of first prayers for a rich harvest, love and health, which were written down in definite signs on eggs. There were several signs which symbolized the Sun: a star or a rose with eight corners, a cross, a svarga* , a trynig*.  A lot of coded images of serpents as signs of an ancient deity of the world beyond can be met at Podillya and Bukovyna. It is interesting that though Podillya and Bukovyna are adjacent regions there are no serpents on hutsul pysankas, and on the contrary: there are no horses, sheep or deer on the Bukovyna ones, and they are often found on pysankas in Hutsul region. The most ancient signs are bezkinechnyks*, stars with eight corners, crosses, swastikas and spirals. It is known that painted eggs were used in different rites by many nationalities in Europe, Asia and on the American continent, too. A way to ornament pysankas using wax is characteristic of Polish people, Lusatian Sorbs, Croats, Romanians. In Germany nowadays people make interesting pysankas with small dogs, bears and squirrels on them. In our country the most ancient ornaments have survived, including the signs that can be met on a several thousand year old jugs from archeological digs. Archeologists have more or less certainly specified what all those "peculiar" letters meant for ancient peoples. These ornaments have reached us practically unchanged because each year they were replicated. A contemporary person is looking at the world in a different way. Being a Christian myself I treat these signs with respect because they are a message from our ancestors and represent their vision of the world. But I do not attach any magic significance to them.
«Pysankas from Shulyavka – red flowers on a black background»
— Where do you take patterns to ornament national pysanky?
— In the first place, private collectors present them to me. There is a 85-year old Yurko Ferenchuk, a unique character, a soldier of the Ukrainian Insurgent Army during the second world war, who was once put into communist concentration camp and survived in Kingir, where there was a rebellion, by a miracle. Later he returned to Ukraine and lives now in Bukovyna region. So he has made sketches of about 1800 pysankas. He was travelling in villages making photos of ladies-pysankars and briefly writing down their biographies and the names of their pysankas. He has given me his sketches for reproducing. I have also been given photos from Mykhaylo Firchuk collection, taken in the 1970th when he was still alive. In general he had a collection of more than 2000 pysankas from Bukovyna. Beside that, I've been handed a part of a set of hand-made albums kept in the USA. In Bound Brook there is a center of the Ukrainian independent Orthodox Church with a museum belonging to it which was founded by patriarch Mstyslav. When he left Ukraine during the Second World War, the director of Poltava museum of local history and economy, Kost Moshchenko, went with him and took materials about pysankas from Kulzhynsky collection – everything till volume two, and those were the materials that had been collected back during the times of Tsarist Russia.
— There's a thick layer of archive materials about Ukrainian pysanky abroad and all of them are waiting to be investigated and revived…
— Yes. In particular, in Russia there is an extensive collection of pysankas collected by well-known ethnographers Kost Sherotsky and Fedor Vovk. It is kept in the funds of Saint-Petersburg Ethnography Museum. To copy them will take a lot of resources. Also, there is no access to the sketches kept in the Polish museums. But yet I have enough materials in Ukraine for my work.
—  You are now working at a substantial edition about pysanky…

— I see this new book as having two parts. The first one will contain all the kinds of pysanky that can be found in Ukraine. All the characteristic features of the ornaments from different regions will be shown on a map there: all the crosses, swastikas, small churches. The second part will be called "Pysanky of a single village". There are villages in Ukraine where complete schools of pysanka-making art were created with their distinguished styles in coloration and layouts of the ornaments. Pysankas from such places in Ukraine as Nyzhny Berezov, Chorny Potok, Rozhnev, Snyatin, Nemirov and Yavorivka from Vinnytsya region, from Derman in Volyn, from Trostyanets, Kyiv suburb Shulyavka that has been "devoured" by the capital, are easily recognizable. Pysankas from Shulyavka with their unique red flowers on the black background were registered way back by Kulzhynsky in his first album. I have already completed pysankas from 10 -12 of such sources and continue to work further.
I cannot help remembering an incredible story about pysankas from Yavoriv village situated in the South of Vinnytsya region. A countess Yanova Belina-Bzhozovska at her times made sketches of 187 pysankas in an album and after the October coup d'etat took it to Warsaw. In 1924 the granddaughter of the countess copied this album. During the Second World War the original was burnt but the copy survived and is kept now not at a place not far from Katovtse. In the 1990th  a xerocopy of the album was handed over to the Vinnytsya museum of history and economy, and the majority of the sketches were reproduced on real pysankas by Maryna Verkhova.
«Each pysanka has a right to live»
— Would you like it if there was a Pysanka Museum in Lviv?
— Yes I would, though I have a realistic view at a possibility of its creation. Well, there exist a lot of private collectors but I doubt they will agree to exhibit their collections because not all of them at present allow people to even have a look at these collections. Museums do not exhibit ancient pysankas from their collections, either. A project should be organized in the frame of which several pysankars will reproduce an extensive collection for the future museum. Corresponding premises with proper technical equipment are necessary, too – for instance, some sun shield for the pysankas. Ancient patterns require to be photographed from several sides because a pysanka is a very fragile thing and can be broken any second. But then it will always be possible to reproduce a pysanka in accordance with the photographs for it to have a new life. One pysanka can have several tenths of different variants each of which has a right to be preserved. In Ukraine at present there are no museums having digitized database of the pysankas kept in their funds.

— There are traditional and original authors' pysanky. The most interesting are the artistic pysanky made on the basis of the national patterns with those preserved over thousands of years mystical signs…
— A national pysanka has been "polished" over centuries. It is the same with the pysanka singns as with teaching letters and notation in music: it is impossible to create a masterpiece at once without having previously learned symbols and compositions of the national pysanka. But anyway we should not restrain children when they let their imagination run away with them trying to add a sun here, a spot or a curl there to a pattern.
— You have brought to order a book called "The World in the Pysanky of Taras Horodetsky" in the memory of the artist whose masterpieces are kept now in different museums and collections in the world. Who do you consider the most interesting artist among those making original author's pysankas?
— Taras had a filigree kind of technique; his experiments with natural dyes are also described in the book. Nowadays original author's pysankas are created by Lviv artists – Ms Zoryana Hregoriychuk (her pysankas look very nice because of the used color combinations), Ms Halyna Solomiychuk, Ms. Halyna Kovalenko, Ms. Iryna Vakh.  People from Canada and the US who buy and export Ukrainian pysankas often address these ladies. As for the Ukrainian state – it doesn't buy any pysankas yet.
— What is the best way to preserve pysanky?
— If you make them yourself it is better to bake the eggs before you start ornamenting them. Baking is a kind of test allowing to see whether the egg is good. Bad eggs crack or their white emerges through the shell pores. But the pysankas made on the eggs which have passed such tests can be kept for dozens of years.
Text by Yaroslava Muzychenko, "Ukraina moloda"
Photographs by Vira Man'ko