The one who revives and preserves ancient life of Hutsuls in digital formats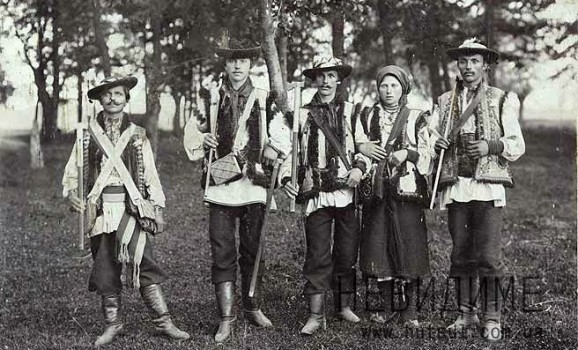 It is lives of people at the Hutsul territories in the old times captured in more than a thousand photographs – so many of them are collected during private expeditions by Volodymyr Kitselyuk, an ordinary enthusiast from Hutsul region, a doctor by profession and an ethnographer by vocation. Volodymyr has posted the photographs he has found in the Internet in the electronic formats. His answer to the question "Why?" is simple: "To preserve the cultural inheritance".
My talk with Volodymyr via e-mails has continued last June (2010) but it's only now that I have a possibility to work the material out. Nevertheless I am sure this information is still topical. Volodymyr is continuing his collector's activities and besides, he welcomes to his house different friends tired by city rush and eager to have a rest with ethnic coloring close to nature, because beside his web-project Volodymyr is occupied in so-called "green tourism". Tourists are invited to Hutsul houses which he repaired and restored himself. Honored places in the interior of these houses belong to ancient Hutsul antiquarian things, namely everyday household items.
So in our talk with Volodymyr we touched upon every topic one after another: Hutsul characters and manners, his electronic photo archive of the Hutsul region…
— When and how did the idea of the project come to your mind?
I've been interested in the old times from their different aspects for quite a long time. In particular, my collection of Hutsul antiquarian things has developed into a home museum which at present occupies three rooms in the attic; as for my investigation of my personal genealogy, it probably will turn into an independent scientific work.
The idea to create something in the electronic format came to my head about three years ago. At the time I worked as a manager in Kyiv. I shared my thoughts with my friend Maryana, a designer by occupation and she also took great interest in the ideas. So, in the summer we decided to go for an expedition. At the beginning, we planned to create two interconnected web-sites. One of them would have contained the archive of ancient Hutsul photographs and the other one – a guide map of those times, which was preserved by some Hutsuls. Thus, it would have been possible both to see and to compare life and environment in the villages during the ancient and our contemporary time. But in the process of work we understood that to be able to cope with the digital photo archive we would have to postpone the creation of the other site.
At present, we have more than three thousand of photo scans located on our web-site. We separate them according to years and the object types captured in the photographs.
— Can you describe the process of collecting photos?
We conduct expeditions in summer; usually we spend a week or two in them. We put a scanner and a notebook into the car and go to the mountains stopping at different villages. There, we go from a house to a house asking for ancient photographs. As a rule, the main thing is to catch hold of something interesting, and then villagers start to send for each other or even see us to different people. We have a special formula for explaining people what we want from them. Since it is difficult to reach understanding in small mountain villages using such words as "Internet" and "scanning" and the people we deal with are often elderly women we simply say that we would like to take photos of their old photos for a museum. When people are sure we are not taking anything from them, they certainly help us with pleasure. Maryana usually scans photos and I record the names of the persons captured on them. Sometimes photos are accompanied by interesting family stories.
— How do you get from a village to a village? Does anyone accompany you?
We drive our own car so there's nothing to be afraid of. We take a tent with us and (if the weather is good) we put in at any suitable place when it's growing dark and spend nights in it. If it is raining we ask someone for a permission to spend a night inside. Last time in Putyl district* we put our tent close to the Romanian border.
*Putyl district is a district in Chernivtsy region located in its South-Western part, bordering with Romania in the highest mountains of the Ukrainian Carpathians.
— How many regions have you visited? How many are still to be visited?
I am not sure about the number of the villages we've visited. Besides, villages are different. Sometimes we need to spend several days in a village. As for the territory, we haven't visited two regions yet: Rakhiv and Nadvirnyany. They are still among our targets. If we can represent these regions on our site it will actually be completed, though the process of adding photos is endless. There are a lot of villages we haven't reached yet and I am sure there are lots of interesting photos still to be discovered.
— Do you cooperate with any museums and state structures responsible for collecting and support of such archives (let's say, a Kyiv film and photo archive of Ukraine named after Pshenychny)?
As for museums, at present we communicate only with Ivan Honchar museum. The experience shows that it's much easier to directly communicate with people in villages than with the staffs of state bodies.
— Is there anyone else involved in your project?
None besides Maryana and me is involved in the project yet though once we asked a programmer for assistance. If a private collector shares his photos for scanning, we sign a statement saying that the photos are from a private collection of this or that person and we will use them only for publishing on our site without a right to distribute them anywhere else. We strictly follow this rule and are open for cooperation.
— Do you have any financial benefit from this work or you do this only for your own satisfaction?
We work for our own satisfaction. We are not successful in obtaining any funding yet. We applied for a grant only once and did not win. I understood that one should say in the application not what you are actually doing but what the grant commission wants to see and I'm not happy with this at all. No one gives money for the Ukrainian culture.
Ethno-recreation project in Bereziv
The project is implemented in the Vizhny Bereziv of Kosiv district in Ivano-Frankivsk region. This place is located the 30 km distance from Kolomiya. Guests have two adjacent houses at their disposal. One of them is an ancient peasant house which as a matter of fact serves for the project implementation. Here we jointly cook ancient Hutsul dishes, bake bread and shortcakes, churn butter, make cheese and bryndza; we also weave carpets and spin, extract salt from sorovytsya (salty brine). Close by in the shed we husk corn and mill it into flour using millstones.
In the other, a "modern" house there are three separate rooms fro sleeping; one common kitchen, sanitary arrangements with a shower and a WC. This house has hot running water and central heating.
An extract from the web blog of the project author: http://vlotko.livejournal.com
— Those are houses of my grandmother and grandfather, says Volodymyr. Actually, the old one belonged to my grandmother and the new one which I renewed and reconstructed initially had to serve as a barn and a summer kitchen.
I planned this ethnic recreation project as a change for my occupation in Kyiv. Thinking it over and preparing took some time. At last I quit my work and returned back to the mountains. My life changed drastically. Repairs and making communication lines required a lot of time. I did a lot of work myself: for me, this was switching over from the office atmosphere to the space governed by rubber boots, weather conditions and religious holidays. This summer (2010) I welcomed my first guests.
The main idea of the project is giving people an opportunity to experience an ordinary life of Hutsul peasants; to try to live the way people used to do in the mountains centuries back. It is a kind of time "back trip" but with a possibility of having all the civilization benefits such as a shower and a water closet. It's not my objective to completely revive ancient ways of life because it is impossible. The main thing is to let people see the difference at least a bit and to have a rest from the city. In the project, we do everything together with the guests: we cook ancient Hutsul dishes, mill flour, bake bread, churn butter, make bryndza, spin, weave carpets, extract salt from brine, milk cows and so on. Besides, we go to the mountains, to the polonynyas (meadows in the mountains), to the springs with salty brine; sometimes we use a fira* and a horse; if we feel like it, we go to the neighboring family of musicians to listen to Hutsul music and dance to the frilka*, a tambourine and cymbals. All this together with lodging cost 150 UAH per person a day in total.
*Fira – a cart
*Frilka – a Hutsul flute, another name – floyara
This season (2010) we've had a lot of guests. In July flooding prevented some people from coming but actually that wasn't the flooding because we didn't have much of it but the fuss of different informational channels. Instead, in August people were coming continuously; all the time someone was leaving and someone coming; about thirty people stayed with us in general: for shorter or longer periods of time.
— Where did you learn all those crafts you propose to your guests: baking bread, churning butter, weaving carpets, clay modeling? Is there anyone who helps you to implement recreation programs?
I've known a lot of things from my childhood. Some of the crafts such as baking bread or weaving I was learning in the process from local women. My nanashka (godmother) lives rather close to my place in Berezov and she helps me a lot.
— The price of 150 UAH per person a day for these conditions with such an intensive program looks very loyal to me (measuring by Kyiv standards)? How did you estimate the cost of the services? Did you make any calculations?
Somehow the cost formed itself on its own. Ancient cooking is rather simple and it doesn't require any expensive products. Besides, we cook together. The cow we milk is my godmother's and as for the horse, I borrow it from a neighbor.
— What does a person need to come to stay with you?
What is needed… To buy a train ticket, to pack clothes that one can afford to soil, to take strong shoes and come. But before that one should give me a phone call for registration. No special preparation is needed.
"Wooden items from my collection would be enough for several ancient households…"
— What examples of Hutsul antiquarian things do you have in your home museum? How many items approximately have you collected?
I don't know how many items I have in my museum but in general there are several kinds of them. The heaviest ones are chests. At present I have 29 of them and I keep clothes in them. I have several examples made in Berezov noble style which has disappeared practically completely by now. Beside chests I have a lot of other wooden house ware, barrels, berbenytsyas, milk-pails, measuring bowls, other houseware such as conovkas, diletkas, kobilkas, jugs, glazed crockery, butter dishes, nakryvchynas (covers), mechanized and manual tow machines, spins, terlytsyas, combs, dergivkas etc. They would be sufficient to equip several ancient households. 🙂 Basically I have practically everything that surrounded people in their houses and outside, things which they possibly used during working days and holidays. Ancient documents, photographs and books I keep separately. In addition, I have several nobility documents and agreements for purchase of land dated the end of 18th – the beginning of the 19th century.
"My grandfather also dreamed about a home museum but it he never managed to come to it…"
— I began to get interested in the old times in my 3rd grade of the secondary school; once I took out all the ancient things that could be found at home and put them on the TV-set. They made my first home museum. 🙂 I don't know where this feeling emerged from but I do remember I was very interested in that. Among all those things there was a spoon brought by a relative from the First World War; there were coral and coin necklaces of my great grandmother; a manual coffee grinder and something else. As for coins, I started to collect them when in my kindergarten yet. So, it's something running in the blood. My mom told me once that my grandfather also wanted to organize a home museum but he never managed to come to it.
The main photo
Yury Solomiychuk-Yuzenchuk (left) with his Sich friends from Brusturiv-Kosmach. On the way back from a Sich holiday in Stanislav, 1904. Verkhovyna, Ivano-Frankivsk region
Kateryna Kachur, Rukotvory
Photographs from Volodymyr Kitseluk's blog: vlotko.livejournal.com, from hutsul.com.ua and from several personal blogs: juliagorobey.livejournal.com, whitish.livejournal.com, anderson-kiev.livejournal.com
Translated by Olena Guda