Rayisa Pavlenko: I hadn't heard about didukhs until 2000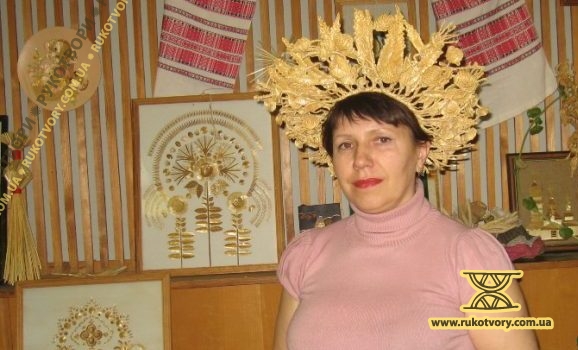 *Didukh – a tree made of different cereal ears as a symbol of wealth; the root of the word "didukh" is "did" which means "grandfather" and "old man" in Ukrainian.
National artist Rayisa Pavlenko has been working with straw for almost 30 years. She started from inlays (made pictures from straw) and later learned to weave straw. At present she shares her experience with children in the Studio of Decorative and Applied Art (Arts and Crafts) of the Center of Creative work of children and youth in the Dnipro district of the capital.

How did you learn straw weaving, did you master it yourself?
I cannot say I learned it entirely on my own. You may be familiar with Maria Kravchuk (a famous artist, working in straw weaving, from Vohlynia – auth.) In 2000 I accidentally saw a shining woman going along the street. She was carrying full bags with straw poppy heads sticking out of them.
In general, all the time working with straw I knew it could serve not only as material for making pictures. And certainly there existed different traditions connected with straw but during Soviet times I couldn't find anything about them in the books or get any information from people.
Accidentally I met Maria Kravchuk first and somewhere a month or two later – Romana Kobalchynska (Head of Ethnography department in the National Museum of Architecture and Life in Pirohiv village, «Transcarpathian» sector – auth). Only due to Mz Kobalchynska I started to discover the traditions.  For example, I hadn't heard about didukhs until 2000.
So, Maria Kravchuk taught you straw weaving?
It can be said so. But my study has been long and hard because Mariyka lives in Volhynia and I live in Kiev. I had been creating inlays for 25 years or even longer before I started straw weaving. And in 2000, when Mariyka showed me methods of straw weaving, waking up each day with my eyes still closed I used to stretch my hand out (because I used to always have wetted straw near my bed) and started to weave; so the first thing I started to do was to twist something.
This had continued for maybe two years until I understood how to do it. In general there are a lot of secrets in straw weaving. Maybe the elements of weaving are not very numerous but if the movements are wrong or the straw is wetted in a wrong way it will never be possible to make beautiful items.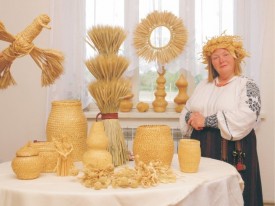 Last year we had a symposium devoted to straw weaving in Volhynia, which was organized by Mariyka Kravchuk. Everything was so well organized that the participants lifted Maryika on the chair, made her a crown from grassy plants and carried her thus around as a queen. They were the people she had taught. That is, this person is so much carried away by straw weaving that she shares all of her knowledge with her students. It is very pleasant because a lot of artists who work with straw keep everything they know to themselves.
When I started to learn straw weaving there was a club in Kiev where it was taught but then the people from that club started to make hats exclusively and left teaching. In Brovary, too, there was a teacher who once went to Germany with an exhibition to get successfully married there. So she used to tell her students not to pass their knowledge to other people, she said: "Your knowledge is your means of subsistence and if you pass it to anyone a lot of people will start doing the same and your earnings will decrease." But nowadays I don't see many people who are working with straw on a constant basis.
At present I hold master classes at corporative parties, too. I like it very much. I had them last year and the year before the last one I had many of them as well. I was surprised at the fact that a lot of people working in the business or trade liked straw weaving; more than that: it was impossible to tear them away from me. They were not interested in any dancing. They sat down beside me in the morning and were sitting and working until the evening and it was very interesting for them.
I started to work with straw when I was 40 and it was very difficult for me because this work needs a lot of effort. It is very easy to learn straw weaving at the age between 9 and 18, or maybe it is easier until the age of 30, but it is very difficult when you are older than 30. I was learning this for 3 years because I was just shown how to weave but all the secrets were not revealed at the time. Later I was discovering everything by and by.
What kind of straw items do you usually make? I know your didukhs are very popular.
I made my first didukh in 2003. There was an exhibition it the Ukrainian House which had a symbolic name "Didukh". But later my didukh was bought by some bank, in other words, the Culture Management which was in charge of the exhibition organization, sold it.
Later I made a didukh for a "God grant" group and then one during the Orange revolution as well. At the time it was decided that in the center of the map there should be a didukh as a symbol of spirituality. A lot of people were coming up and were not able to understand what that thing was. Maybe that was the moment when didukh was shown on TV first; and prior to that day nobody had known anything about it and had never seen one.
This year once again I made a didukh for "God grant" and it was 2.5 meters high.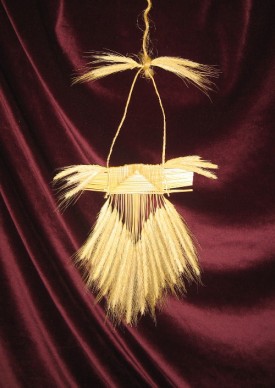 What else beside didukhs do you like to make?
Most of all I like to make angels. Nowadays for some reason people have a need in having angels. But I also make everything connected with ceremonial symbolism. We make a lot of works for the Savior day, a religious holiday, – Savior day wreaths, bouquets, and a special "Savior" beard which during the New Year holidays is called "Didova" (grandfather's) beard. This kind of weaving is also called "Arabic weaving" because it is considered to have been about 2000 years old. Or maybe it is even older, who knows. That is this kind of weaving was used not only in Ukraine, and in Ukraine this tradition has been preserved in the Carpathians.
Two years ago I was lucky to visit Holland and Scotland. In Holland I saw quite a different kind of weaving which is called Mexican school of weaving. They, too, make "Didova" beards but a bit different way. The Scotch people have preserved their traditions very well but unfortunately they were not invited to the fair in which I took part at the time. But I saw the photos with Scottish "Didova" (grandfather's) beards. In Bulgaria and Romania they are made, too, but decorated in another way.
In general, didukh is a sheaf and a symbol of the following harvest. It was believed that during Christmas the spirits of the ancestors visit the families which took a sheaf inside the house.  A "grandfather's" beard can also be weaved in such a way that it can be hung on the wall. When a harvest was over the last rye knot left in the field was called "Didova" beard, actually it was the last sheaf which was tied in a knot; and it was believed that this knot, or this "Did" is the protector of the field, in particular, from mice, and he would protect it for the following harvest.
What items from straw are made for different religious and other holidays? For example didukhs and Christmas angels are made for the New Year and Christmas celebrations; "The Savior" bouquets and wreaths are made for the Savior Day.
For the winter holidays the following things are made: Didukhs, Didova beards, Verteps (movable Muppet shows), straw spiders as symbols of Creation of the World, wreaths to put under the dishes with kutya (ceremonial cereal dish), straw hedgehogs which are placed on the table as symbols of the Sun; crosses, kolyadnychocks (special guarding talismans for young men and boys in the shape of a sun with eight beams, with which people go for carol singing).
Taras (one of Rayisa Pavlenko's students – auth.) for two years  used to get up at 6 in the morning and go around different apartments singing carols with the same kind of kolyadnychock.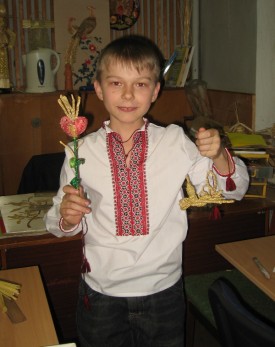 What about the spring and summer holidays?
For the spring holidays, exactly for Candlemas Day, a special candle was made. In different regions of the world it was decorated in different ways. In Volhynia I saw decorations from beads, threads and ribbons, in the Carpathians these candles were decorated by grass and green rye.
One year all my pupils decorated the candles this way and went to the church on Candlemas Day, so afterwards they were telling a story hard to believe into: they said someone opened the church doors and all the candles that people were holding went out and only the candles wrapped in the grass and green rye continued to burn. Though the decorations were at the bottom of the candles they somehow protected them.
For Candlemas Day a bird is also made as a symbol of the coming spring and the Holy Spirit. There are four memorial days in a year, in particular, St. Dmytro day and the day before Easter, so people used to make wreaths from immortelle and cereal ears which were called «dushechkas» – the souls of the dear.
Beside this, for harvesting wreaths were made for haymakers and also put on scythes to thank them for help in gathering the harvest. Wreaths were also made for mistresses of all the households and an "obzhynkova" flower was made devoted to the completion of harvesting. It looks the same as didukh, only with the stems bent downwards.
It happens that in the old days straw was a part of everyday life during each year for the Ukrainian families and they used to make some things serving as guardian talismans for every holiday…
Not all the families made them because rye or oats didn't grow in all the regions of Ukraine. In Carpathians oats is used more often and in Lviv region it is rye and oats.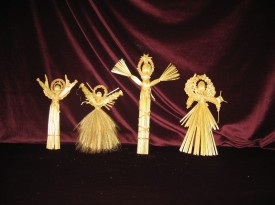 What is necessary to make a successful thing containing positive energy?
A person should start working only in a good mood, and prayers are obligatory, too, because if something is made by a person who is not sound and healthy you can feel it straight away. Once at the fair in Pirohiv a blind girl came up to me and grabbed one of my angels. She became very happy at once and asked her mother to buy it for her. I was greatly surprised that she paid attention at that very work because I had been making the angel being in high spirits. And the child was able to feel it.
Also, once I got acquainted with the Head of the Trypylla museum and he told me an interesting thing about pregnant women often coming to his museum to stand under the hanging spiders made of straw. It turned out they were advised to do so by their doctors for their deliveries to be easy. Maybe there is some influence from the trapezoid form of the spider or its continuous movement in the air.
As for the secrets, one should simply know at which angle to bend each straw, how to straighten it correctly and how to get it wrapped.
You can see Tetyanka there is wrapping a flower (Rayisa addresses a young student who is diligently wringing a flower stem from straw – auth.), but she is making very thick stems and they need to be thin. And for them to be thin the straw should be cut, and then a thin thread should be wringed for winding around the stem.

Where do you get the straw?
Well right now I've been to Volhynia, so I cut some at Maryika's (Maria Kravchuk – auth.) And two years back I bought some straw, I paid 2000 UAH for it and additional money for the transport as well, brought and kept it here – it was on the shelves in the basement.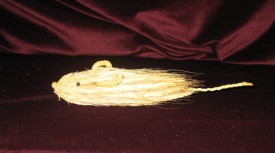 By which items your creative work can be recognized at fairs and festivals?
The thing I invented myself and up to now nobody has repeated it – is mice and fish made of straw. When we process straw so many pieces of cutting and rind are usually left that any shapes can be made of them. And it is always a pity to throw away these remains because I get the material with much difficulty. So I have decided not to waste anything.
How in general could you characterize the state of straw weaving in Ukraine?
There are a lot of people who want to learn but most of them want it just for their own satisfaction. But it is impossible to work with straw if there is no special workshop. And I have a one-room apartment so when I was making a didukh for "God grant" I had six sheaves scattered around the apartment and I moved them from a place to a place.
Beside that we have always taken parts in contests. Especially many different children's contests where national crafts were shown were organized when Kuchma was the Ukrainian president. But today in Ukraine there are no contests in national crafts beside the contests of drawings and ballroom dances. And I cannot understand why so much said about all this and nothing is done. A single contest has not been organized for the last two years.
Rayisa Pavlenko's life story.
My entire life I have been making straw inlays (inlays mean decorations from pieces of different materials such as gold, silver, bone, wood or nacre, fit into an item surface flush with it – auth). I am a kindergarten teacher by education. I worked as a kindergarten teacher for 5 years but the salary was so small I had to go the "Souvenir" factory because at the time it was possible to earn good money there. At the factory we had been making inlays until it went bankrupt in the 1990th. During the period when I was leaving it one had to make a hundred inlayed pictures to earn 5 dollars. A lot of people left it. But later when the factory again was in production they came back. This factory has been in operation until now only with smaller numbers of employees. Earlier we used to make a lot of works for export and when foreign people came to us to buy souvenirs they thought prisoners were making them because the work was very delicate and beautiful but cost very cheap. And no one was able to believe it was not done by some mechanisms.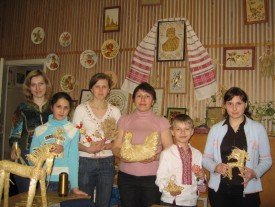 I left the factory and started teaching at once. I had always wanted to create because at the factory I had been making the same picture, "A rose", every day during 10 years.
There was no straw weaving at the factory because it was calculated that a lot of additional employees would be needed just for cutting straw. Besides, weaving is a great load on the hands and to make inlays is much easier.
During the time when I was working at the factory I was making other works at home. But there was time (1980-90th) when it was impossible to sell them. You should have had a certificate you was a member of the Artist Union to have a possibility to submit your works to some art studios or shops. And to get such certificate I had to take parts in different art exhibitions for a long time. Beside that I thought it was necessary to have some kind of art education which I don't have yet now. That is why the most part of the things I was making I presented to different people. At the time I was making works mainly for foreign people.
When I left the factory I worked in a teenager club for approximately a year and then in 1994 came to the Center of creative work of children where I have been working until now.
The Center of creative work was visited by Kateryna Kachur