Olexander Kovalchuk: Each artist should have a Mamay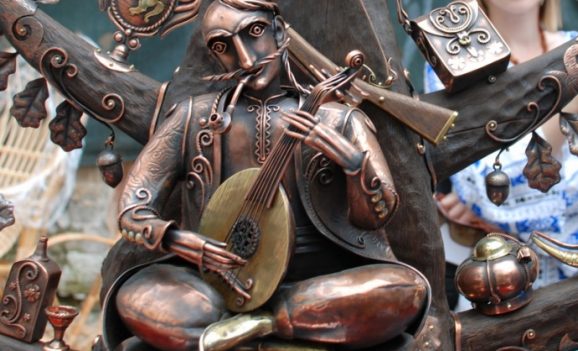 Note: In Ukraine Cossack Mamay is one of the most popular characters of Cossack-knights, which is often called a cosmogonical personification of the Ukrainian people in the whole. This symbol became so popular among people that it in the old days it was presented in each house together with holy icons.
Kozak Mamay always touches the deepest strings in souls. Any of his visualizations charms. But sometimes an artist happens to convey the image of this distinctive character so expressively that it is impossible to miss. Olexander Kovalchuk with his wife Iryna took their creation in public on Kiev day for the first time. In spite of the rain the sculpture made of wood and copper gathered people willing to have a good look at it. The answer to the question how much it costed was that is was not for sale at all. But everyone who saw the creation that day must have wanted to have it at home. The sculpture is composed of more than three hundred components. Only the body of Mamay has a hundred. Fifteen components make the cap.
It took me three months to create the sculpture
Olexander Kovalchuk:
— The conception itself and what everything should look like I had been cherishing for a year. And perhaps I've managed to implement what was intended by 90 percent. But certainly it is for the people to judge.
I conceived Mamay because my soul the same as souls of all the Ukrainians is touched by the thoughts about my roots and I want to draw attention to where we, Ukrainians, come from, what we live for, how we do it and how it should be done. It seems this Mamay has a lot of answers to philosophic questions.
It took me about three months to implement the ideas. I want to take this sculpture to the Union of National Artists and then to the Art Gallery.
Olexander's wife, Iryna Kovalchuk-Pasternak:
— It is the unique sculpture and it is a unique soldering technique for sheet metals which makes each work special. Here copper and brass are used, in some other works it is nickel silver, but all of the materials are sheet metals; that is the volume is created from flat metal sheets; the same is about the eyes, face, arms and leaves.
But believe me it is not done all at once. As for the technical part of the sculpture, the work was going on from morning till night each day. Later we sat down to select the elements because we needed to place them in a way when they would be organic and logical.
Each artist has his own Mamay
Olexander Kovalchuk:
— Each artist should have a Mamay in his life. Among all the artists, sculptures, wood carvers – that is all the people involved in the decorative and applied art – practically everybody one time or another touches upon the Kozak Mamay theme. And everyone sees it his own way.
The oak in my work symbolizes the life tree, courage and strength. The crown looks similar to the Protection icon which protected all the Cossacks. I've made a conventional image of it – without the face or hands. The rushnyk (national embroidered linen towel) and the haloes themselves suggest that it is the Protection. It is placed over Mamay as if it is protecting not only the Cossacks but the whole Ukrainian people as well.  Mamay is in his canonic posture. All the things which were ever attributed to him by different national artists are placed on the oak branches: a bottle with a glass, a powder-flask, a trophy cap, weapons, a musket, a saber and a coat of arms with an image of a horse as a symbol of freedom and free spirit – that means the man had never served anyone and never resigned himself to anyone but was from a noble family; and all the scientists and artists are sure about this fact.
There is a rhymed sign in Ukrainian under the figure of Mamay saying: "Cossack Mamay is playing kobza and he gets everything he's intended!" The author explains the origin of it.
Olexander Kovalchuk:
— It is from a folk song. Seems once I heard bandurists singing one of Dumas (a kind of Ukrainian national historical Cossack song). So I took these four lines and they as it seems to me underline one more trait of Mamay's character- "that he gets everything he's ever thought about", because he is a peculiar character and a magician. It is a very positive image of a Ukrainian warrior and guardian. Similar Mamays should be in each house and each family. Years ago they were portrayed not only as pictures on the walls; such picture was hung on the entrance doors of the houses, too, to protect them from evil spirits and people.
My instruments consume 40 percent of my income.
Olexander Kovalchuk:
— This work is the main kind of my activity. From my childhood I've been painting, drawing and I've always liked clay modeling. I graduated from Vyzhnytsi College of applied art. During my army service I was an artist of my military unit. In Kiev, in the Institute of Casting I worked as a modeler and was making models for casting brass items. I also used to work in private companies. But later I came to the conclusion that it is much better to be a free artist because the same as a private businessman I am my own manager and executor.
Now we live in our country house and we have a private workshop there. All this would be very problematic in Kiev; my equipment is of such a kind that it is difficult to live close to other people with it. It makes a lot of noise and there are different smells as well because I deal with chemistry and fire all the time. All the components are soldered with hard solders and it is higher than 10000C, plus benzene vapors. This manufacture is harmful for health that is why I do everything in the country. I work 9 through 21 each day so when I feel it becomes hard for me I go out and take a walk around the house. There are a pond and a forest close to my house so I get better after a walk and can continue with my work.
In my workshop I have different blacksmith's devices and the kind of furnaces that artists who work with ceramics and enamel use; because my technique is of a mixed kind it requires jewelry instruments, too. In general I use benzene tool for soldering but welding is also possible and multiplastic methods. The equipment for this is more modern and multi-purpose. One should always be ready for any kind of offer. So the instruments consume up to 40 percent of my income.
Works of art cannot be cheap
Olexander Kovalchuk:
— My main clients are the rich Ukrainian people – businessmen, deputies, art connoisseurs. Thank God they exist and let's hope there will be more of them. Because I should say not all the people are interested in art, unfortunately. I tried to sell my items in galleries but this didn't give results quickly. Uzviz is a place where my clients easily find me and we communicate here mainly on week-ends.
As for the foreign clients I should say they are a bit stingy. They think because they are in Ukraine everything should be cheaper for them than at home. But I have a different thought. And it's a wonder but recently Chinese people have shown great interest in my work and two of my items have already gone to China practically without any bargaining over them. I was proposed to organize an exhibition in Beijing. So if the invitation comes we will surely go, why not?
Iryna Kovalchuk-Pasternak:
— Some people say our works are too expensive, but when so much effort and soul is put into each item they cannot be cheap. Only Chinese imitations can be cheap.
We've come to the point when we have stopped creating only expensive items because not only businessmen and deputies need them. We've started to create widely available women's bijouterie, visiting card holders and different office decorations so that people would be able to  congratulate each other – let's say with birthdays.
Olexander Kovalchuk:
— As for the price of Mamay, I haven't made my mind yet to say something definite. I would send it for an auction for a starting price of 10 thousand USD and then we would see.
«Rukotvory»