Ivan Bobkov: Artistic potters do not churn out pots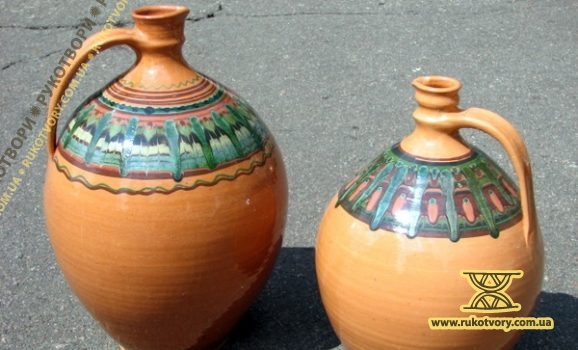 The last part of the interview. You can read the beginning of the conversation here – "Ivan Bobkov: Now We Are Writing the History of Pottery"
Once in a half a year Ivan digs out clay, crumbles it up, wets, filters, dries, and works it thoroughly. He himself does the whole process. At one go he prepares about one and a half ton of this greasy substance. Then he works with it and teaches others how to make pottery.
Several years ago you said in an interview to one printed edition that there is a lack of raw materials for pottery: elite clay deposits are being bought by big entrepreneurs. So the masters that work for themselves have to look for clay somewhere else. And what is the situation with clay deposits in Ukraine now? Are there enough raw materials? And where do the masters usually take clay?
The situation with clay in Ukraine didn't get better, not at all. Those organizations and companies that worked with clay either raised the prices or disappeared. And many people complain that their production is of poor quality.
But still, where do you take the clay? Some potters have told me that they go and dig it up by themselves…
The same do I. Kyiv is situated on the clay deposits, so the only thing you have to do is to find one of them. And it is possible to find some clay to model a small horse…
But if one wants to make some useful things, or professional pottery, or some sculpture, he should concentrate this clay with other kinds of it. One should buy it or dig it up. The clay I work with consists of 6 kinds of clay from different parts of Ukraine. And Donbas is completely closed for us. Zakarpattya is far away…
And why is Donbas closed for you?
Those factories that supplied us with wagons of clay since the time of Chasiv-Yarskiy pit were bought by Portuguese entrepreneurs. They produce the ceramic tile there, and we, Ukrainians, buy it overpaying a lot.
Chasiv-Yarskiy pit is the only pit in the world where the clay of the highest quality is extracted. There are some deposits of similar kind of clay in Spain. But the Spaniards are not stupid people, they sell it for convertible currency, and here in Ukraine – anybody could come and take…
Portuguese received the rights to buy this pit for over ten years, and the "Keramperlit" factory at Podil was closed straight away, a narrow-gauge railway is covered with rust already. And I still remember the time when the wagons were unloaded and we could get some clay to work… Though, sometimes somebody comes from the ceramic shop and brings a ton or a half a ton of clay… And sometimes we get some at "Druzhkivka" (Druzhkivskiy pit in Donetsk Region – auth.).
How many are there working enterprises that can deliver clay?
There are none. There were four such enterprises in Kyiv, and two of them were factories. Factories are not selling yet. There are two companies that sell, but the quality is poor and the price is unreasonably high. And I don't work with the others…
And what about Ukraine in general?
In Ukraine one can go to Opishnya. I've heard that some people took clay there. But, again, I've heard also that some representatives from our union of craftsmen went to Poltava region to buy clay for symposium, about 3-4 tons, and took the remains of it there. So I don't know if there is something left. There is plenty of clay in Kosiv, it is actually under the feet there… And there are not so many companies and potters left to make business on extracting clay, but each potter separately can find enough of it.
As far as I know, none of the 14 ceramic factories that worked in Ukraine at the time of the Soviet Union, is working now. How can you explain it and how would you describe the present-day condition of pottery in our country?
I cannot say anything encouraging. None of the factories works and it makes me mad. I was there, when the factory in Vyshneve was torn down with bulldozers… And now a department where Chinese refrigerators and office equipment are assembled stands on its place.
So, can we say that 2 years ago the last ceramic factory in Ukraine was demolished? Or this concerns Kyivska Oblast only?
A factory in Vasylkiv was opened with pomposity. It had been temporarily closed. But they don't have any artists there… I don't like speaking about things that I don't know for sure, but I consorted with the factory masters on that matter. This factory used to unite all the artists, and after it was closed, each of them started making ceramics on their own yards. And now the factory is open again. And they say: "Come back and work here". What should the artists do? Go there and make cockerels or something like that? The artist didn't return there, because they already could do something by themselves. Nobody went there. So the factory drags out a miserable existence, though officially it works.
A factory in Slovyansk works, and we see its awful production in undergrounds. Though a majolica factory in Opishnya works, it churns out three-cent pots. People cannot earn enough money there, because the factory has no money to pay. And when you come out of the Opishnya factory, you can see stalls with mass-produced items from Slovyansk ceramic factory (Donetsk region – author.). And a person that drives on a high-way near it thinks: "Well, here it is Opishnya factory, that's cool!" (Opishnya ceramics is considered to be one of the best ceramics in Ukraine. In our country ceramics represents each epoch, each level, and each region. And Opishnya factory was a great one.) So what? A person brings his or her car to a stop, comes out and buys an awful three-cent pot.
In this case, what is better for pottery traditions – when a potter works at his own studio or when a factory churns out ceramic cockerels?
I don't know. I wouldn't say this or that is better. For example, I work at school, and it gives me the opportunity to do something for myself — some creative work or an exhibition… If I have some orders, enough work, that's OK. And even if there is no work, I still have my wages, and we can survive.
And a master that works for himself must be ready to pay for materials from his own pocket and then wait for payment for months, or even have no opportunity to sell his works. There could be difficult times. And there is the third option: a master works at the factory, and Uncle Sam tells him: "Let's make pumpkins today". And if a person doesn't have a screw loose, he will suffer. And if he doesn't care about art and just needs to earn 200–400 hryvnyas, he will work at such a factory. But I can't do that.
I know from your biography that you have studied not only Ukrainian traditional ceramics, but also European, African, Asian, and American ones. Can you compare them?
Well, there were different periods of time, peculiarities of country history, and according to them people were building their culture, their own art. And they definitely have the right that their art is the best… I don't like comparing what is beret, what is worse. Each culture has its own gorgeous special features.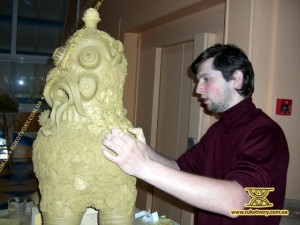 I am interested in Asian culture. I am sure that those Opishnya and Poltava lions came to us from the East. And Dmytro Fedorovych Golovko (D. F. Golovko is a Ukrainian artist and ceramist; a full member of the International Academy of Ceramics in Geneva – auth.) studied in Opishnya and he traveled through different countries, and that was his opinion about the lions. And, lions do not live in our forests, but they are characteristic examples of Poltava majolica…
When I was at symposium in France, I modeled a lion there, and Frenchmen (and they had the right, because they hadn't been to Ukraine) said: "Oh, this man feels Japanese and Chinese culture so well, he learned to do their lions so well…" They had seen my resume, and it is written there that I had the needed education; that I had graduated from the University, and I had studied those cultures. So the translator told me that, and I answered: "No, that is our traditional modeling. I brought to you piece of Ukraine, what would be the reason for me to copy Japanese or Chinese art?" Then I had that idea, that there is a link between Opishnya lions and Eastern lions.
And speaking about different cultures, I like Bulgarian very much. There is Margaret Kovach in Hungary who works with majolica, and that's gorgeous. In Russia there is comrade Vrubel (Mikhail Vrubel is a prominent Russian artist, writer and ceramist – auth.).
I even told my friends that the only possible start of our relationships with Russia could be through the love to culture, because there can be nothing with politics. But the situation is different with ceramics. For example, Scopinska ceramics. I can say that I like Russia in this sense. Here we can start a dialogue — the craftsmen could visit each other and ahsre their knowledge.
How far are we from Europe in pottery? I mean whose level is higher?
Well, this opinion could be considered subjective, but I believe that we are better.
Why?
They don't have that emotional, situational stress or accent that creates a certain mood. Everything is insipidly good. I have worked and communicated with the artists of German arts school…
A kid poked aught with his finger or painted something on the wall and he is in the school of arts straight away. They fuss over a "young artist", feed him or her with yoghurts and certainly give a child the orange juice. They buy a kid his personal Japanese potter's wheel that costs 1000 dollars with special light and stuff. Two or three teachers help him — I saw it with my own eyes… We don't have all this. Our masters work even during nights, even without food or just having frugal tasteless snacks, and then work again… And that's it. It helps us to be better. We don't have anything to lose. And they have. The school, the potter's wheel. They are mealy-mouthed. They don't have the cultural training; they don't know what to do and what to avoid doing. And such a tendency is very dangerous… But what they need to do is just teach a kid and that's all. Then she must work on her own. But she has poked something a little, the teachers fired it, dried it out; and – voilà! there is an exhibition, photographs, published works: "Christine Albacher, 11 years old". That's awful…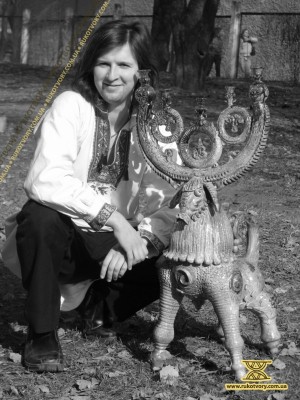 The same situation is about Americans, pottery is a hobby for them. They are paid well for that work, so they model something for pleasure and money. And for us it is a culture, it is our history. Now even politics and our everyday difficulties are interwoven with pottery. I cannot go home and lock myself inside, just forgetting about everything. I know that I must go back here, and I live with this knowledge. And they have worked a bit – and that's all… That's why we are better than they.
And just to put an end to that ideological implication, I will say: we are least, but we are better prepared, professionally and technically. I am sure of it. We always win the symposiums. And we will continue to win them.
By the way, an art critic can compose such a resume for even the most wretched item that the author should kowtow to him. But when you make a pot, everybody will say: "And that's it?!" And sometimes a pot is the most difficult item to model. And Japan… Our potter Yuriy Nechay managed to make Japanese pottery. I managed to make French pottery.
There are quite good potters in Spain. It's interesting to talk to them, and they make quite good earthenware. There are some interesting technical moments, and other things that we should learn from them. But using their materials and their instruments, we could compete with them.
But there is one ticklish moment: their potter's wheel is different; they move it with their hands, not with their feet. I could manage to model something on such a wheel, but I am used to another one.
Kateryna Kachur and Bohdan Hdal