International Büyükçekmece Culture and Art Festival (Turkey, Istanbul)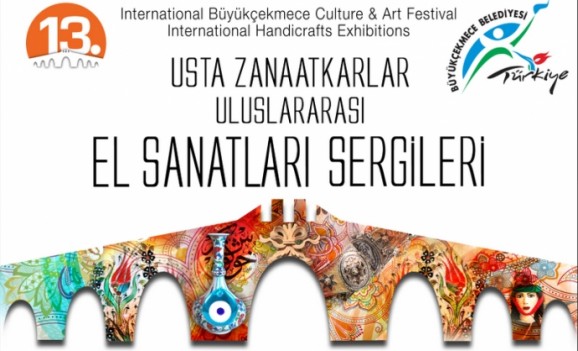 Event date:

June 29, 2012 - July 8, 2012

Event location:

Turkey, Buyukcekmece-Istanbul
Details
International Büyükçekmece Culture and Art Festival will be held 29 June – 08 Jully 2012 in Turkey in Buyukcekmece-Istanbul.
Every year from different countries dancers and singers come to Buyukcekmece for this festival. The general idea about this festival is to learn cultures of different countries, their art, people and languages. Around 3.000 foreign tourists come for this festival. Also many local people hang on this festival. There are singers, dancers and other art attractions at scene and at festival area. Especially tourists can see Turkish culture and also other cultures too. Festival area is near to the sea therefore there is always cool weather.
This year participants are coming from the following countries:
Germany, Bulgaria, Kosovo, Macedonia, Netherlands, North Cyprus, Hungary, Serbia, Ukraine, Turkey.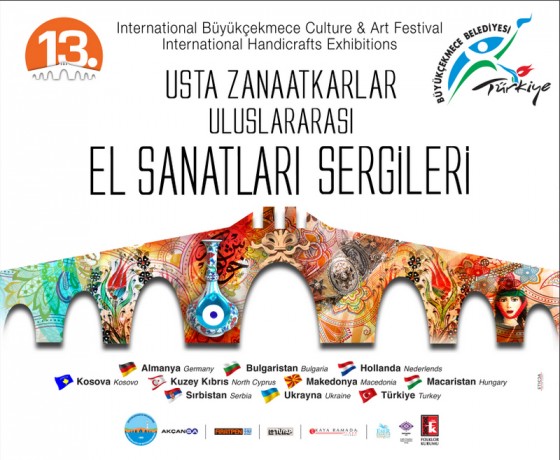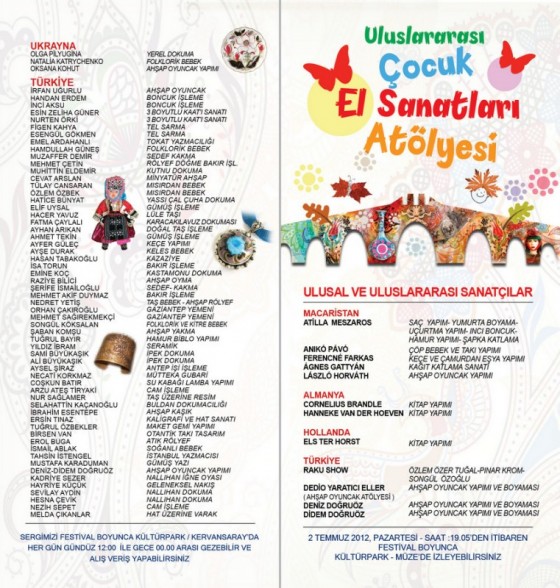 Content of the Festival: International Altınköprü Folk Dance Competition, Sculpture Symposium, HandiCrafts Exhibition, Authentic and modern Exhibitions, International Photo Contest, Public Concerts.
Participation info
We would like to guest the local Handicraft masters that belong to your region and towns with their works at the exhibition departments of our festival. If you want to take a place part of the festival exhibition, you fill out the form and send it with the visuals until 15.05.2012. It's important to send the required documents to be a part of our festival workshops book.
…………………………………………………………………………………………………………………………………………….
Application form (to load.doc)
[table id=20 /]
– Information about the materials that you want to use in festival.
– Have you ever participate any festival or organisation about handicraft?
ATTANTION PLEASE. It's important to send the application form, 1 photograph and cv of the handicraft masters and some photos of his-her works for the catalog.
Please send the form ; +90 212 883 07 83 as a fax or send by e-mail to kultur@bcekmece.bel.tr until the date of 15.05.2012 .
***We provide for 1 Handicraft Master accomadation, ticket, food, stand for sale .
***The arrival and departure date must be one day ago and one day after the festival.
*** Handicraft Master must make live performance during the festival period.
*** Municipality of Büyükçekmece reserves the right of changes in the festival program
I have read and agree to the above-mentioned conditions
Name:
Signature:
————————————————————————————————————-
For Further information:
Municipality of Büyükçekmece Culture and Social Work Affairs Office
Phone: +90 212 883 35 89 , +90 212 883 40 00
Fax: +90 212 883 07 83
Anatolia Handicraft Survival and Development Association
Curator – Ms. Uğur Bent Türker, info@buyukcekmecefestivali.com / ugurbent@hotmail.com
Phone: 0212 552 76 32 – 552 97 32 Mobile: 0533 517 41 55