The Turkish museum of costumes gets a present from Ukraine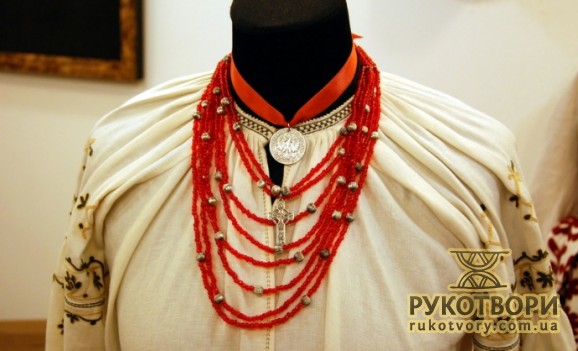 A costume traditional for the Ukrainian Dnipro region (Naddnipryanshchyna) was presented to the Museum of World Costumes in the Turkish town Büyükçekmece by Ukrainian craftsmen together with the authors of the "Rukotvory" project. The costume was made by masters of authentic Ukrainian costumes workshop «Shlyakhetny odyah» ("Noble clothing") from Kyiv.
The present comprises such components as a long embroidered shirt, a plahta (a kind of skirt), a zapaska (apron), a belt, a necklace and a wreath. Each high quality component is made manually strictly following the tradition. During opening of the fair in the scope of the 13th art festival the costume was handed over to the Town Major Hasan Akgün.
After the official part of the opening the Ukrainian present was to be taken to the exhibition. The museum itself was opened in July 2011. Earlier, the town authorities restored and re-equipped for the museum needs an age-old building which had not been used and was in unattended conditions at the time.
The museum exhibition is built up at the expense of presents from the countries – participants of the Büyükçekmece festival. Mainly they are traditional costumes with every sort of supplements: decorations, dolls, and works of folk art. At present, the Museum has costumes from 44 countries of the world, namely from Spain, Uzbekistan, Malaysia, Thailand, Mexico, Russia, Ukraine, Poland, France, Venezuela, Ethiopia, Argentina, Algeria, Byelorussia, Philippines, Georgia, Indonesia, Korea, Azerbaijan…
In general, the Museum collection comprises more than two thousand exhibits. On the ground floor, there is a temporary exhibition of world nations' costumes which is periodically replaced and complemented.
The exhibition of the Turkish traditional costumes is located on the first floor. The oldest costume is more than a hundred years old; it is a women's wedding attire. According to the museum workers, they have a costume more than 150 years old in the fund but it is not ready for exhibiting in showcases.
The exhibition halls represent both everyday and holiday costumes; majority of them are originals which were handmade some time ago. There are modern costumes, too. They are made at factories following ancient models.
Kateryna Kachur, Bohdan Hdal, «Rukotvory»
Translated by Olena Guda