Laly Topuria: I am a Georgian and it happens that I manage to make dolls-Georgians best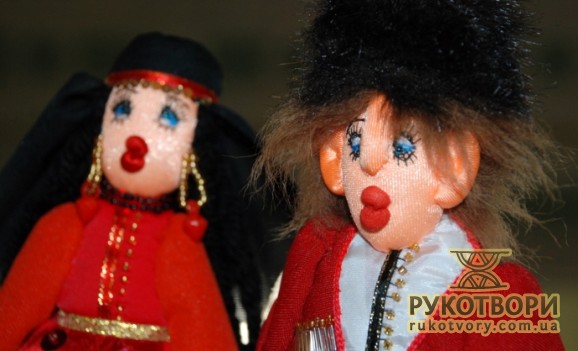 During the period starting May, 26 through June 5, an exhibition of dolls of seven modern Georgian doll-makers – Laly Topuria, Guldamy Mgeladze, Nany Bediashvily, Iryna Haratishvily, Denis Gonobolin, Maryna Rcheulishvily, Manana Kapanadze – was held in the National Museum of the Ukrainian Folk Decorative Art. The exhibition was organized in the frames of the International Project in Cultural Exchange called "Ukraine – Georgia: two suns, one soul".
Among the expositions there were modern national, collection, theatrical dolls and mechanical objects. All the dolls were handmade and had appearances peculiar to the nations of their creators. For us, there was an opportunity to talk to a Georgia representative, one of the exhibition participants, on the last day of the exhibition's work.
Laly Topuria, native of Tbilisy, created her first doll 6 years ago when she fell ill and was not able to walk. In addition, her granddaughter was born at the time.
"My legs hurt; I was lying and was not able to do anything. It was then that I took a needle with a thread and made a doll the height of my granddaughter Lika – 52 centimeters. Since that time I have started to make dolls and I like the process."
In spite of the fact that Laly Topuria is a historian and fine art specialist and though she studied at a cinema and drama faculty and even used to make documentaries for some time, dolls have become the main occupation in life for Laly. She makes them different in sizes and decorations. Practically all of them wear traditional Georgian costumes. Laly works with threads, fabrics and beads. She doesn't use any dyes and makes faces also with the help of a needle and colored threads.
"Besides, I make fairy tale characters, such as Red Hood or dwarfs. But in general all my dolls wear national costumes because I am a Georgian and it happens that I manage to make dolls-Georgians best. All of them have characters and besides they may look funny. But the large dolls I make are of a different character – they are like people."
The master used to visit local ethnography museums for a long period of time specially to learn examples of national costumes. She examined variety of their forms and embroidered patterns.
"All the details of the costumes used to be worn in the old times cannot be reproduced on such small dolls but I am trying do to this and sometimes add original components to the costumes. People used to dress in different ways in the mountains in the 17-18 centuries. I am trying to show all the community groups through the clothes – people who grow grapes the same as princes and princesses."
According to Laly Topuria, traditional costumes are not popular for everyday use in Georgia at present. Sometimes people wear them for weddings or when performing traditional dances.
"It happens people wear such caps as my dolls, they are special favorites among men. But certainly they do not wear chokhas* (coats) because it is in the Georgian custom that if one wears a chokha one should have a dagger on him.
When people see someone dressed that way in Georgia people stop and stare… I see here, in Ukraine, a lot of girls wear embroidered shirts, but it's different in Georgia… It is very uncommon. An old person can wear this sometimes or dancers of traditional dances but people don't just go around like that. Even if modern clothes on the basis of the traditional costumes are made somewhere they are usually very expensive…"
*Chokha — men's outerwear made of woolen cloth and widespread in the past among some nations in the Caucasus. The shape of chokha is similar to the Circassian coat common to the entire Caucasus area but it doesn't have any stand-up collar; it reaches only to the knees and its sleeves with sleets are as long as the elbows. Instead of the belt chokha was often used to be tied by a special girdle (a belt made of a wide stripe of fabric or lace often decorated by velvet at its edges).
Laly Topuria conducted a master class for Ukrainian doll-masters. She showed them the entire process of doll creation from the beginning to the end.
"Yesterday girls brought dolls which they made using my models and instructions. Certainly all the dolls are different because each girl made an original individual doll. They also embroidered the eyes. I see that your girls are much better at embroidering…"
The artist's handiworks are exhibited in different countries of the world. Also, masters from all parts of Georgia take part in local doll-maker's festivals.
"There's not a lady in Georgia who have never had a doll." – says the Georgian master. All of them made something of their own at one time or another instead of playing a Barbie: maybe they used to tie a pillow ear with a shawl and rock it to sleep or something else of the kind".
Kateryna Kachur, "Rukotvory"
The photograph of Georgians in national costumes is taken from
kulvits.livejournal.com