Kenzo Takada, a world famous designer, has visited Ivan Honchar Museum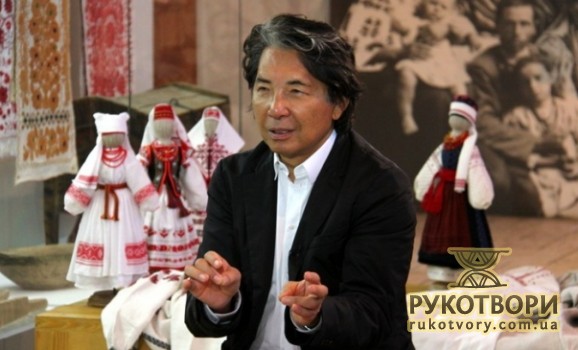 Kenzo Takada, the renowned founder of Kenzo brand, a 73-year old artist and a designer in the past visited the National Center of Folk Culture "Ivan Honchar Museum" on the 22 March, to have a closer look at the Ukrainian folk art, Ukrainian culture and Ukrainian costumes in particular, because Mr. Takada has long been interested in ethnography and traditional costumes of different nationalities of the world.
Yuriy Melnytchuk, Deputy Director of the NCFC "Ivan Honchar Museum":
«Mr. Takada is delighted by our embroidery; it is natural because people who are occupied in making clothes model a lot and are interested in different handicrafts, to say nothing about embroidery. He compared Ukrainian and Romanian embroidery seeing similarity somewhere in them. Though actually they are similar when we look at the Carpathian-Balkan culture region (as it is often named) as a single region or use the same approach to the Cucuteni and Trypillya region, too: here, the Romania – Ukraine parallel is quite possible. All Podillya, Bukovyna, Prykarpattya embroideries have something in common with the Romanian ones. So, Mr. Takada has noted this fact and it points out his observation power and memory for such things».
The Japanese artist did not only examine Ukrainian costumes; he himself tried to embroider several patterns. Under the guidance of Yurіy Melnychuk, a skilled embroidery master, Mr. Takada tried to embroider a pattern using the technique of two-sided counted satin-stitch. To say the truth, the artist later confessed that "he had always been good at drawing, but not at sewing or embroidery".
After a brief excursion around the Museum exhibition hall and a short master-class, the TSN cameramen accompanying Kenzo Takada, bought a shirt in the Museum shop embroidered with white threads on the white background and presented it to the Japanese artist. This shirt is the second one in the Mr. Takada's Ukrainian collection. 2 years before, visiting Ukraine for the first time and staying in Lviv for the «Ukrainian fashion week», the Japanese designer got an original embroidered shirt as a present from a Ukrainian designer Olesya Telizhenko.
I'd like to remind everyone that during the period of 20 – 25 March, a personal exhibition of Kenzo Takada's painting took place in one of the Kyiv art galleries; it was named «Nô» which means "mastery" or "art" when translated from Japanese. This is also the name of the traditional Japanese theater that has existed since the 14th century.
Kenzo's paintings at different times were exhibited in Paris, Munich, Buenos-Aires, Morocco and Moscow. As for Kyiv, the exhibition has visited it for the first time. It should be noted, that Mr. Takada sells his works willingly. 16 paintings and 19 sketches of the "Japanese Parisian" are shown in the scope of the Kyiv exhibition. Costs of the interior paintings vary from €5000 to €4000. The prices were specified by a Paris team.
In 1999, Mr. Takada quit his work in the fashion house together with his career of the fashion designer. At the time he wanted to do nothing at all but being a creative person he has not been able to stay one place since that time, so he started to travel and paint.
At present, such American designers as Humberto Leon, Carol Lim and the brand founders Opening Ceremony work under the Kenzo brand name.
In 1970 Mr. Takada became the first Japanese who started to produce things bearing his own name. His first collection presented in Paris consisted mostly of kimonos. In his new role of a painter, Mr. Takada is returning to his favorite Eastern images again.
Kateryna Kachur, Bohdan Poshyvailo (photographs), honchar.org.ua
Additional information: life.pravda.com.ua
Translated by Olena Guda