Europe would envy our wedding songs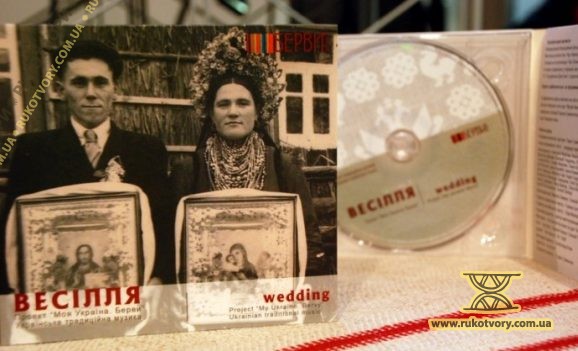 To celebrate a wedding in accordance with all the canons of our ancestors has become simpler nowadays. At least, it will not be needed to "dig for" the song scenario for the ceremony in the museum archives. An Art Agence "Art Veles" supported by the International Charity fund "Ukraine 3000" published a collection of authentic wedding songs on two CDs.
The presentation of the edition took place on the 21st October in the Ukrainian center of the national culture "Ivan Honchar Museum" in Kiev with the participation of the first lady of the country – Kateryna Yushchenko.
Musical compositions for this project were selected from private collections of over than thirty folklorists of Ukraine and from the "Art Veles" archive. Also scientists were selecting ritual songs from those found in the expeditions both on the Ukraine's territory and abroad at the places densely populated by Ukrainians.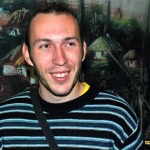 Olexa Tkachuk, expedition participant:
— Usually coming to a village we either already know someone particular in it or start looking for such people asking around about those who can sing ancient songs or play violins at weddings. And then we go directly to these people. The practice shows that we need to look for old women, born around 1920-30th; but beside them there are women born in 1940-50th who since their childhood listened to such songs of their mothers and grandmothers. It is very difficult to persuade people to recall and sing something… "Do you really need it? Go record Baskov or Povaliy, they sing really well, not like we do." It is interesting that coming to different regions of Ukraine we hear the same songs; and if ever there are dialect differences in the language – I am speaking about Chernihiv, Lviv, Donetsk and other regions – they all tend to disappear when people start singing, so it means these dialects exist only when people are talking.
The published collection is the result of work which had lasted for tens of years. In particular, "Art Veles" took part in the expeditions of the 1990th.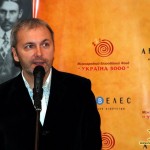 Taras Hrymalyuk, The director of the "Art Veles" Agency:
— We have realized a series of expeditions during which over 300 hours of music were recorded. We have already digitized and compressed into archives about a thousand and a half hours of traditional national music. In the whole, our archive which is probable the largest digital archive of traditional music contains approximately 30 thousand informational units: songs, plays, narrations and so on.
«Ukrainian wedding» was being prepared for two years. There are more than a hundred songs on two CDs. They were collected all over different regions of Ukraine: at Dnipro region, Polissya, Podillya, Volhynia, in the Carpathians, Pidlyashya, Slobozhanshchyna, Kuban and in steppe areas. The musical compositions are arranged so as to be able to illustrate the entire scenario of a traditional wedding ceremony, starting from engagement and through to the seeing the guests off.
Taras Hrymalyuk, The director of the "Art Veles" Agency:
— It is very simple to record an artist in a studio and produce a compact disk the following day. Everything is different in what we deal with: it means tens of thousands kilometers of roads; lots of days, weeks and years of the archive work. It is also a very difficult choice because we need to select those songs which are authentic, the most ancient and the best by their sound and performance. We also need all the forms most typical for different ethnographic regions of Ukraine to be represented. It means a complete profile of the wedding tradition anthology.
Ukrainian people have preserved the unique traditions much better than some European countries – recognized Kateryna Yushchenko. In particular, in Britain, Belgium, Germany a gap in the connection between the country and the cities appeared several generations earlier than in Ukraine.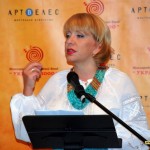 Kateryna Yushchenko, the Head of the Supervision Council of the International Charity Fund "Ukraine 3000":
— In spite of the fact that the soviet regime and different other regimes that existed earlier tried to destroy our traditions we were preserving them and passing to the following generations; due to this we have a lot saved… When Andrew was getting married I thought about finding some films which could show people what the ceremonies from the past looked like; also the songs and the clothes. Maybe our young people will not use all this at once and will not celebrate weddings for four or five days… But if with each coming year our young people took at least a small part of this ceremony, it would become fashionable with time.
During the CD presentation several authentic groups performed ceremonial songs. The women performers were not professionals and did not graduate from any conservatory but the folk song is closely interlaced with their everyday life. They sing practically everywhere and all the time. In particular, the same is said by the folk group of Chudynovych family who came from Svarytsevychy, Rivne region.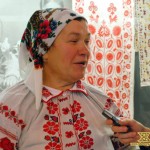 Vira Chudynovych, folk group member:
— We have been singing long, since 1971. Our group consists of four sisters, a sister-in-law and our mother-in-law. Our names are Ganna, Vira, Mokrenya, Mariah, Tetyana and Palazhka. We've been singing from the cradle. Our mother was lulling us and singing. We were not taught intentionally and never took down any lyrics – it was just communicated among people. Whatever we were doing we sang. Whether we were digging the potatoes, or sitting at the porch or shepherding cattle we sang. Nowadays the traditions have been revived but once during Soviet times when we sang "Oh, Trinity, The Holy Virgin", all our Heads at work were dismissed from their positions. But at present, thank goodness, the traditions are revived and we are invited to Poland, Latvia and to Kiev.
Half of the "Ukrainian Wedding" edition which makes about 2 thousand copies will be submitted to the Ukrainian musical schools, colleges and universities which have chairs of folklore. The other part will be sold. It will be possible to purchase the CDs in the "Art Veles" and at the counters with the Ukrainian music in Kiev.
By the way, Ukrainian folklore was the most popular in Europe in ХІХ and at the beginning of the ХХ century. European monarchs took interest in it, and as for the artists of the world level – writers Mykola Gogol', Lesya Ukrainka and Lev Tolstoy, composers Petro Chaikovsky and Igor Stravinsky, artists Illya Repin and David Burluk – studied it and used in their creative work.  For example, Mykola Gogol' recorded over a thousand of Ukrainian songs and Mykola Lysenko even more – practically a thousand and a half of authentic songs.
Reference
The art project named «My Ukraine. Colors», which is jointly run by the International Charity Fund «Ukraine 3000» and the art agency «Art Veles» was started in 2006. Its main target is recording Ukrainian folklore, preservation of the unique archives by means of digital technologies, publishing of audio and multimedia CDs and their wide popularization; preservation and popularization of Ukrainian traditional art.
Earlier in the frames of the Project 10 CDs were published. They are «Lullabies», «Ukrainian folk tales», a collection of Ukrainian instrumental music performed by a kobzar Taras Kompanichenko and others.

Kateryna Kachur, Bohdan Hdal' – Rukotvory