Brides started to wear wedding dresses in the 1960th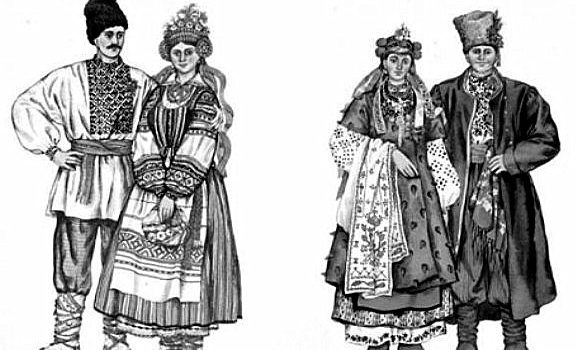 Until that time girls had been wed in national chemises and skirts.
"I was embroidering my wedding chemise for two weeks, – 85-year old Mariah Kucher from Gordiyivka, Trostyanets district in Vinnytsa region is saying. – My chemise had such beautiful polyky (parts of sleeves from the shoulder to the elbow.) I embroidered them with flowers. Also I made two flowers on the chest. I had a wide skirt with a kind of an underskirt, pidtychka, attached to it. And the lyahavka (the bottom part of the shirt or underskirt that was seen below the skirt) of it was also nicely embroidered.
Maria Kucher married her fellow-villager Olexa during the German occupation: in November, 1941.
– I had a jacket on, I wore boxcalf boots and a necklace made of three threads of white stones, lovely called as "trouble-makers" by people. I still own them. A lot of people wanted to buy them from me. But I keep saying: "What makes you think I will sell them? I have children. I got this necklace from my mother; my mother got it from her mother. And I will give them to my grandchildren: a thread to each.
I made the wedding wreath myself – from drops of melted paraffin.
– The wreaths were available at the fairs but a lot of girls learned to make these wreaths themselves. They used to take paraffin candles, melted them; then they cut threads from a reel. One took a thread, dipped its tip into paraffin, waited until it hardened and dipped it again. In the end there was a kind of a small ball. Then the next piece of thread was taken and dipped into paraffin the same way. When 10 of them were ready they were tied together by thin wire. This made the stamens. The petals and leaves were cut out from paper and dipped into paraffin, too. When they hardened they kept their shape well. The wreath was large. It covered the head and was tied at the back under the loose hair. I had already been married when I made a wreath for my neighbor. I also lent her my wedding jacket because at the time people didn't have much: there was a war.
Girls used to tie a lot of colored ribbons to the wreath under the loose hair.
— I remember the year I graduated from the secondary school, it was in 1961, my neighbor Nadya was wedded in the skirt and chemise yet at the time – recalls 62-year old Maria Stepanishyna, born in Gordiivka, too. — And somewhere around 1965 such materials as staple and China silk appeared in the shops, so they were used for making wedding dresses. The cut was simple: short, with pleated skirts often called "Tatyankas". Later bridal veils appeared. First they were long and later reached only to the shoulders.
In 1970th guipure and brocade came into fashion so wedding dresses used to be made from them.
— I was getting married in 1974 but at the time it was impossible to find anything of the kind – recalls Gallyna Levytska, aged 57, an employee of the regional registration department of the civil state acts. I was hardly able to find a ready-made dress. It was white, rough and tight. — I had to alter it. Neither was I able to find a suitable bridal veil. So I bought three of them, and three wreaths, too. Made one wreath from those three and a veil with three layers – modeled everything the way I liked it.
In 1980 wedding hats came into fashion. The veils were fixed to their brims at the back.
— Well I saw enough of brides wearing that kind of wedding dresses. A hat should suit a person: her face, figure and dress. But you know how people are: if something is fashionable it is all right. Once I saw a plump, heavyset and short bride in that kind of a hat. She had an open low-necked dress and such a hat with wide brims. Also a veil tied to it. She looked quite like a mortar in all that.
During Gorbachev's times imported wedding dresses appeared in the former USSR.
— People started to bring dresses with trains from abroad, – recalls Ms. Levytska. These dresses were embroidered with beads, and the trains two meters long used to be carried by children. But with the roads and dust we have around and especially in rainy weather trains were inconvenient. The brides didn't know how to hold them when the ground around was all miry: whether to throw them over the arms or to hold them with their hands.
So the trains didn't justify themselves with time.
— My wedding chemise ended up torn by my dog – Maria Kucher waves her hand. After the wedding I washed the things and hang them on the line to dry, so he caught it with his teeth and tore it up.
The source: gazeta.ua