Artist dressing modern youth in traditional clothes with a paint-brush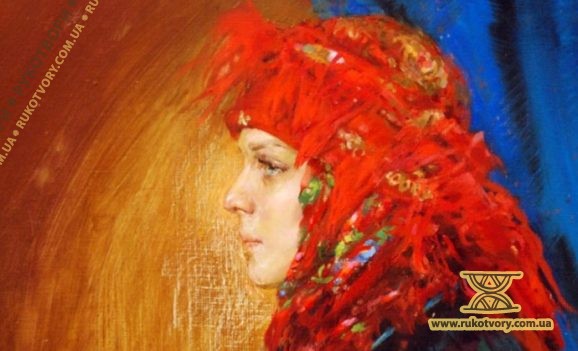 Have you ever seen picturesque portraits of contemporary girls and boys dressed in Ukrainian national costumes? Photographs you may have come across but I have grave doubts as for painted pictures. Kateryna Biletyna once decided to dress young people in traditional things. She did that with the help of paint and a brush. Though in the Kherson subdivision of the Union of National Artists Kateryna had honestly been warned that no one was interested in the exhibition of Ukrainian portraits in the city.
The opening of the personal exhibition of Kateryna Biletyna named "Ukrainian portrait" took place on the 23 October in the Kyiv gallery "Master". The following were among the presented works: portraits of well-known girls in Ukrainian costumes, a portrait of Roman Shukhevich ordered by Vladimir Kirichenko, the head of  "Our format" agency; portraits that had been presented the previous year in the "Gryphon" gallery and bought by two connoisseurs of the Artist's talent.  All this comprises a chain of consistent accident rules which started in the Odessa Art College named after Grekov, where the artist was taught by Vitaly Alikberov, and then was continued by her acquaintance with Lesya Voronina, an author and the chief editor of a magazine for children called "Sunflower" (unfortunately it is not published any more).
— After the Odessa college I studied in the Kyiv Academy of the Fine Arts and Architecture under the guidance of Mr. Gumenyuk, but it was not Mr. Gumenyuk but my acquaintance with  Lesya Voronina that had a great influence on me: I worked in the "Sunflower" for many years and it was the beginning of our great friendship and love. Lesya introduced me to the Ukrainian traditions and national culture so later I started to take interest in them. I fell for the Ukrainian culture, national costumes, images and ethnography. Then the publishing houses "Rodovid" and "Oranta" started to publish magnificent albums with national embroidery, decorations and costumes. So it appeared that everything came together.
That is how the images of contemporary girls in national costumes came to life: rich painting, accurate pattern, national colors, artful face modeling and treatment of light and shades.

-The girls portrayed in these pictures do not wear national costumes in real life but you should see how they change in these costumes! I asked my friends and acquaintances to bring me what they had at home and they brought a lot of ribbons, necklaces, shirts and chemises. It appears practically everyone has grandmothers' chemises in the far corners of the family wardrobes.
Usually Katya paints from nature for 6 academic hours in average and later completes painting of the clothes in accordance with photographs, albums and dressed mannequins. The artist has some authentic things in her wardrobe, too.
— I went to a famous antiquary flea market on the left bank of Dnipro in Kyiv, bought three or four chemises and a lot of kerchiefs.  I wear them myself and use them in my art as well.
In Kherson it is difficult for people to start seeing things in the national light. There is no corresponding environment and traditions, and in the Kherson subdivision of the Union of National Artists Katya had honestly been warned that no one was interested in the exhibition of Ukrainian portraits in the city. Instead, Victor Baloga, the former head of the President Secretariat became interested in this and he financed publication by the artist of a calendar and catalogue with her works.
Portrait painting can be very profitable because people are vain and want to leave their faces for history and descendants. But the artist has her own point of view at this kind of business:
— I want to paint only those portraits and faces that interest me. You see, the ordered portrait is not a genre that delights me. There are certain rules for an ordered gorgeous portrait. I have a friend in Odessa, Natalia Phomicheva, who is rather a famous artist. She's made her name painting ordered portraits and it is actually sad because the artist is dying inside her and the person painting this kind of portraits takes her over. I don't have any self-portraits either. It is not because of my modesty – people who surround me are much more interesting to me. But in any case I am constantly being told that all my portraits look like me. It is because the author's works speak more of him than any direct decisions like self-portrait. would.

The photo of K. Biletyna from
"Young Ukraine"
Photos from the exhibition – by Rukotvory